Sensei Wallace Gossen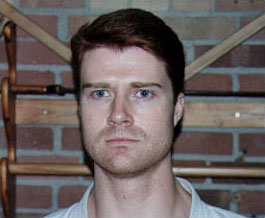 Sensei Gossen was born in Sydney Australia in 1969. He began his Karate training in 1986 at Sensei Jones Dojo in Newmarket. Sensei Tsuruoka graded Sempai Gossen to Shodan in 1992. Tsuruoka Sensei subsequently graded him to Nidan and Sandan in the following years. In 2004 he successfully completed his test for Yondan before the grading board headed by Sensei Jones. He has further Martial Arts experience in Judo, Aikido, and Jiu-Jitsu.
Sensei Gossen has broadened his Karate experience by attending Karate Camps in many parts of the World including France, Germany, Switzerland, Australia, Montreal, and Ottawa. In addition to these camps in 1999 he traveled to Gotemba Japan and took part in Instructor Training with Yamaguchi Sensei.
Sensei Gossen joined the York Regional Police in 1989. He is now a Tactical Officer with the department's Emergency Response Unit (S.W.A.T.). The duties of his Unit include Hostage Rescue, High Risk Search Warrants, Explosives/CBRN Disposal, and dealing with Armed and Barricaded Subjects.
As well as being a Karate instructor, Sensei Gossen's teaching experience and qualifications extend outside the Dojo. The high-risk environment he works in, and his Police experience, give Sensei Gossen a unique insight into the ability of proper training to overcome fear and stress, including:
Use of Force Instructor (Certified by the Ontario Police College)
Bomb Technician (Certified by the Canadian Police College)
Glock Pistol Instructor (Glock International)
Tactical Rappel Master/ Instructor (Toronto E.T.F.)
Explosive Forced Entry operator (T.E.E.S. International)
Crisis Negotiation (Toronto E.T.F.)
Effective Presentation (Certified by the Ontario Police College)
Sensei Gossen also enjoys competing in Adventure Races and is an avid Skier and Mountain Biker.