Sempai Collado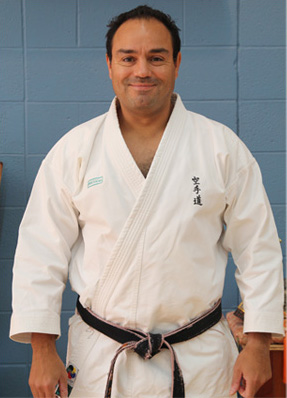 Sempai Collado began training with Sensei Brad Jones in 1994 after seeing an ad in the Era Banner. Sensei Yamaguchi graded Sempai Collado to Shodan in 1999 in Montreal. Sensei Brad Jones graded Sempai Collado to Nidan in 2002 and by 2005 he achieved Sandan. On November 6, 2010 Sempai Collado obtained his fourth degree black belt- Yondan.
Sempai Collado has had the opportunity to attend JKA camps in Ottawa, Montreal and Toronto to broaden his karate training. Since 2005, Sempai has been instructing both youth and adult classes at the Dojo.
As a high school teacher since 1990, Sempai Collado deals with many different students from a variety of cultural backgrounds on a daily basis. Some of these students may face great personal challenges or come from broken homes and they lack self-confidence or have a fear of failure. Sempai's Martial Arts background has given him the tools to boost their self- esteem by helping them believe in themselves as productive members of society and assist them in building the confidence needed to achieve this. Training with Sensei Brad Jones for the last fifteen years has had a similar impact on his own life.
Sempai also enjoys spending time with his three daughters as well as running, weight lifting, reading and playing soccer.